This is a link-up with
Jana
and
Steph
- be sure to check out their links and see what everyone else is reading!
Apparently, I go in phases on wanting to blog vs. wanting to disappear. It's the introvert in me, I suppose. But since it's been a couple months since my last post (re: reading, of course), I figured I'd jump in this month with what I've read since June. Kinda helped having a readathon in there and also a library who REALLY wants me to read all the books. Browsing their website and adding things to my Hold List seems to tell the librarian who lives in my computer that I want each of those books at the same time.
So ... since June ...
Goodbye, Paris
- 4 stars. Kind of sappy, kind of what I needed on that particular day. Received the ARC from Simon & Schuster - not sure how or why but when I get a free book in the mail, I don't normally question it. If anyone would want to read it next, let me know and I'll pop it in the mail to you (or meet you for coffee, if you're local).
The Sense of an Ending
- 4 stars too. Pretty good and short. It was listed on
Modern Mrs. Darcy
's post about short books to read and THAT post came just in time for the
24in48 Readathon
. Speaking of the readathon, I didn't complete the full 24 hours and I wasn't really expecting to. I did make it to 13 or maybe 14 hours, which was more than last year. (Library e-book)
From the Mixed-up Files of Mrs. Basil E. Frankweiler
- I'd never read this one before but I think we have a copy at the house. I remember seeing this cover in one of the kids' bookcases but it might have been selected for The Great Purge of 2017. Found out about it from the
Andrew Luck Book Club
selection for rookies in June? July? Also 4 stars and good for adults and kids. The August selection for veterans is Lincoln's Last Trial - looking forward to reading that one and note to self - need to pick it up before the hold expires. (Library real book)
Every Heart a Doorway
- meh ... 3 stars. It was also listed as a short read by Modern Mrs. Darcy. It's listed as the first book of a series, but the entire time I was reading it, I felt like it was probably book 4 or 5 of an 8 or 9 book series ... basically, I was lost. It kept me interested but it seemed like it started with a lot of loose ends and ended with a gazillion more and none of the starting ones were quite cleared up. (Library e-book)
The Outsiders
- 4 stars. Hadn't read it before and still haven't seen the movie. Definitely enjoyed it and now I'm on the hunt for the movie. Stay gold, Ponyboy. Stay gold. (Library e-book)
The Guernsey Literary & Potato Peel Pie Society
- 4.5 stars. Pretty quick read but I didn't catch on until I was well into the book that it was based on letters and telegrams so then I was distracted by thinking how quickly the mail was delivered back in post-war England. From someone with a college degree in Germanic Studies (pretty much useless), the Occupation part really got to me. Definitely recommend and I wanted to finish in time to catch the movie on Netflix (really good but I wish they hadn't cut out/changed so much) (Library e-book)
The House on Mango Street
- another super-quick read (like a couple hours or so) so I think this also came from the short books list from Modern Mrs. Darcy. Also from the local library. Apparently I just like going in and adding random books to my hold list because I got an email that this was automatically loaded to my Kindle and I don't recall requesting it. I opened it up and couldn't put it down ... not a good thing when it's already 11:30 pm on a weeknight. 4 stars though - really good!(Library ebook - already mentioned but consistency rules all)
What I Talk About When I Talk About Running
- I liked this one because the author isn't an elite runner. He writes for a living and he runs for exercise and to clear his mind. I don't write (though I wish I did) but those are the reasons I run as well. I'll never win any races and that's never been my intention. I run to get out of my head, to be outside, to run with a large group of strangers who are running for their own reasons but we all support each other - even for the short few seconds that we're running next to each other ... oh, and I also run for the free banana at the end. And chocolate milk. And a bagel or cookie. (Library real book)
DNF but not through any fault of the author: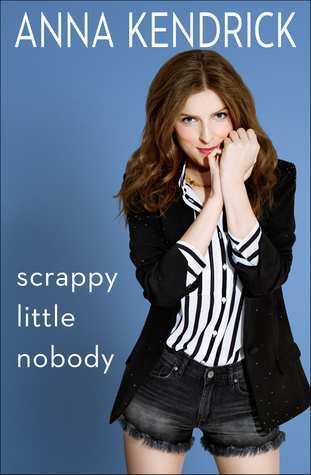 I keep trying audiobooks and this one was the recent failure. Some people might be able to multi-task and listen to an audiobook while doing housework or driving or whatever ... I can't. When I'm in a book, I am IN a book. I was trying to multi-task and listen to this while on a trip (can't really be distracted while driving) and also while running (I may have tripped a couple times because I wasn't paying attention) and finally realized I need to stop and return it to the library and just wait for my name to come up for the real book.
So, as usual, let me know if you've read any of these or if you can suggest something else. Also, do you have the same issues as I do with audiobooks? The only audiobooks I've been successful with "reading" were the Harry Potter ones -- considering I had already read the books numerous times and I love listening to Jim Dale's reading voice, I could get distracted and return and know exactly what I had missed.
(also ... and boom-shakalaka ... figured out how to add Disqus so hopefully my replies to your comments will actually get back to you now! We shall see ... )