Thankful Thursday #7
Today's list of thankful tidbits ... (linking up with
Rebecca
)
Upcoming long weekend ... but why are the weeks before a long weekend the longest ever?
Vision ... it's one of those things I don't think about until I don't have it or have problems with it. As luck would have it, I get to the eye appointment with overcast/rainy skies and I have to leave with bright sunny skies. Boo to dilation drops but yay for no problems and no change to my prescription for another year!
Clearance endcaps at Target ... I've been wanting a stainless steel cup for hot/cold and am too
cheap
frugal to get a Yeti cup and too uppity to go to Walmart to get one of their knockoffs I keep hearing about. Yay for Target endcaps and finding my new favorite cup! Side note: I wasn't taking a photo of the price for documentation ... my eyes were still severely dilated and I couldn't see what the price was. Had to click and zoom. No shame. Also of note - remaining school supplies are 90% off. And I know some places haven't even gone back to school yet ...
Cold-brew coffee ... my coffee pitcher is currently being used for homemade "lemonade" made by the boy, so I'm glad I had a bottle of this on hand. Haven't tried any other flavor but the chocolate is pretty tasty and works in a pinch when I don't have time to brew.
Starry mornings and
Sky Guide app
... Had a 6 mile run to get in before church on Sunday so I was out early. My walk intervals were slower than usual because I spent so much time looking up at the clear, starry sky and guessing the constellations. I waited till I was done and heading home before pulling up my Sky Guide to make sure what I was looking at. This was one of the freebie apps that Starbucks gave out a few years ago and I'm so glad I downloaded it. This was a pic of what I was looking at during most of my run -- or at least when I was facing southeast.
Compassion International ... Allie had wanted to sponsor a child for a long time and we finally signed up to be a sponsor last year. Meet Nuhu! He is now 5 years old and lives in Tanzania with his family. He bought a goat with some of the funds we've sent to him. A goat! How cool is that?? We received an updated photo of him this week. :)
Another blogger in the family ... Will has to keep a blog for the year as part of his English class and he could pick any topic he wanted to. Just needs to update it 2-3 times/week. That's more than what I do but kudos to him! I'm not going to share the link until/unless he says it's OK but the topic is about a videogame that I wouldn't have a clue on otherwise.
He
gave
me
an assignment to summarize one of his blog posts and I'm happy to say that I have completed my assignment (2 pages - but he didn't specify how big the pages needed to be).
In-laws ... although I don't know what they'll be called after this is all settled. It is nice/thoughtful of them to want to keep me in the 'family', though it's still incredibly awkward as we all figure out what's going on and how to avoid the ginormous elephant in the room. Avoidance is a common thing with both the family I was born into and the family I married into. I'm sure it's the same with others.
Real heroes ... in Houston. This is what America is about. No - this is what being a human being is about. No one cares about your political party, religion, nationality, skin color, sexual preference, height, weight, eye color, where or if you went to school, or what's in or not in your bank account. Just humans helping humans (and dogs, cats, horses, etc.).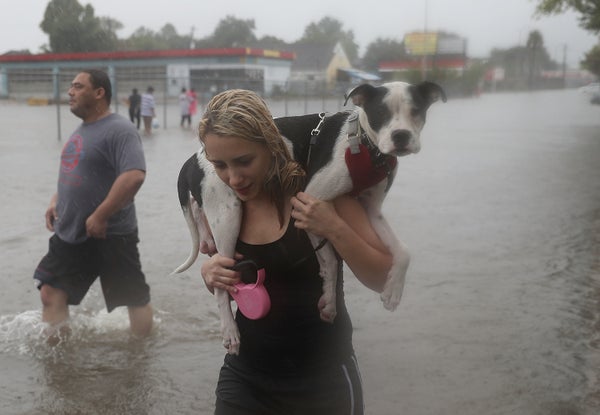 And did you see the video of the cattle drive through the streets? All of this is so incredible (in the 'dumbstruck' sense of the word). We have the rain making its way to our area tomorrow and even though we joked at work and home about another Hurricane Ike (we lost power for 8 days when the remnants of that hurricane hit the Ohio Valley), even losing power is nothing compared to what Houston residents are dealing with.
But that's been today's thankfulness post. :)