What's new with you - July update
Linking up with
Gretchen at GretchRuns
and
Kristen at See You in a Porridge
this first Thursday of July!
Training -
Moving right along with the marathon training. Currently towards the end of week 3 and it's a little boring. The intervals are still at run 3 minutes, walk 2 minutes and I find myself running a bit longer after the timer goes off to start walking ... and then re-starting running before the timer goes off to run again. But I've also noticed that my speed has increased, without me really trying to go faster. I think I'm going to have to look into joining a running group that will have dedicated speed sessions. Otherwise, I won't know what's the best way to go about that. I also know I need to do cross-training (something I hate) to get stronger ... which will also help on the speed. Too much to think about when I just want to forget about everything. And for those in on my Netflix woes, I'm watching Gilmore Girls now during any treadmill runs. I've been getting some runs in outside but when scheduling or weather keeps me inside, I have the witty banter of Lorelei and Rory to humor me.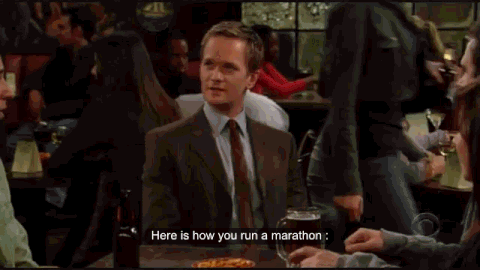 Life -
It's still sucktastic. Thanks for asking. But I'm grateful for friends. So many things running through my head at all hours - it's amazing I'm still able to get my job done as well as everything else I'm doing.
What do you do when you find out one of your friends (a close one - a very close one - possibly your spouse) has written you off and moved on without a second glance or any remorse? I have my faith to keep me going but there's always going to be a question of 'what the hell just happened here?' Is it really that much easier just to skip out on life and responsibilities than to put some JOINT effort into something? Should it be that easy that one can simply sign on the dotted line to void a marriage and there be no repercussions? Ugh ...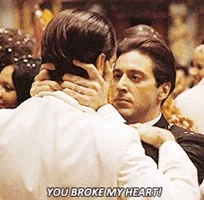 Actually, the storyline doesn't really go with my life story ... but it's the Godfather. I had to use it.
Goals -
Just keep waking up and putting one foot in front of the other. And keep the kids alive. :) And keep trying new things. Now that I don't have to needlessly worry about what someone else thinks about what I like/don't like (realizing that he just really didn't care anyway), I'm so enjoying getting out with friends and exploring and trying new things.
My most recent finished project from The Glass Gypsy.
It's symbolic (but hard to see in the photo) -- there's a large piece of cut glass in the middle for Indianapolis (my hometown) and a broken mirror for New Albany (where I live now and 'found' myself).
Books -
While I did set a goal on GoodReads, I realized a few years ago that book goals aren't realistic for me. I'm not into picking fluff books to read and wonder why can't adults get the same type of reading goals that they set for kids? I'd rather measure what I read in pages, not books ... or give extra credit for the weighty tomes. Besides, wasn't really much in the reading mood for awhile. I've gotten back into it gradually, if only for something to do to keep my mind off "things".
I've been staring at paint blotches on the wall for more than a year.
Apparently, the blotches only bothered me so I'm the one doing the painting.
Rest of month activities -
Well, I'm not on the family vacation right now that has been planned for more than a year. And I've deactivated Facebook for the week so I don't see all the photos and posts from those who did go. I'm working on the house while the kids are gone - painting what I can, decluttering what should have been tossed a long time ago (really just had no time or motivation and then someone was little-to-zero help). But, I'll be spending the rest of this month with W and A (as much time as I possibly can - they're growing up faster than I can keep up). I love the people they are becoming and we are talking more and more each day about everything and nothing and I'm loving every minute of it! (could this be the one 'positive' that comes out of the separation/pending divorce?) AND ... to get a text from them while they're gone that says they miss me this week. Bittersweet.
Any thoughts?
Any updates you want to share?
Any suggestions on how to cope?