Overdue training recap ...
Whoa ... been awhile since I posted an update! Although even though there's not much going on, I don't know where the time has gone. School starting, summer break ending, and this heat ... Dear Lord, the HEAT ...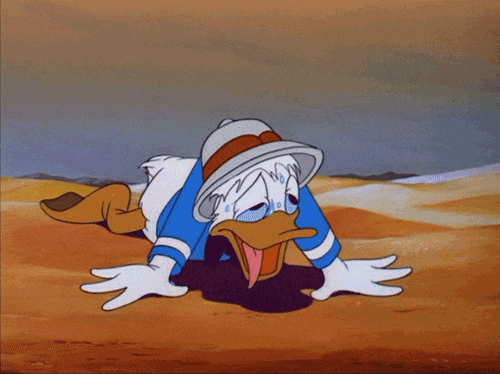 When walking outside literally takes your breath away ...
So here goes ...
Marathon Training - still staying on target with the Marathoning for Mortals run/walk training plan. The only hiccup so far came the week after I donated blood. I made sure to get that weekend's run in, but donating always takes more out of me than just a pint of life-saving nectar (gross, but there you go). I'm borderline anemic anyway BUT I also found out that running is good for people like me because in some physiological science-y way, running and heavy exercising helps the body make more red blood cells. There's your science for the day. :) But yeah, rebuilding that lost pint while also trying to run during this heat ... I know I skipped a whole day and then cut the next day's run short and then the long run of 10 miles the following weekend ended up being barely 6 miles and I ran smack into that proverbial wall in the middle of Community Park. It wasn't gradual or anything ... I just stopped, gave up, went back to the car and felt sorry for myself.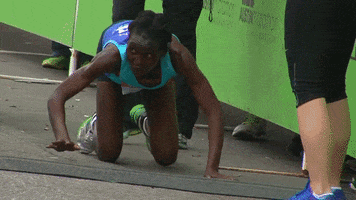 This could have been me trying to get back to the car ...
BUT -- I continued on with the next week's runs and haven't had any more problems. I'm a bit nervous about this weekend's run. 14 miles will be the furthest I've ever gone. And the heat ... dear Lord, the HEAT! Well, there's a cool front coming in tonight so that means highs in the mid-80s instead of around 90 ... can't be choosy. I do know I've been doing far too many runs on the treadmill and I'm definitely sick of that.
I had thought I would at least run more in August than I did in July but it was not to be ...
Nutrition - still slack-a-lackin' on the nutrition. Case in point: Matt cooked up some black beans and chicken for a combo quesadilla/taco night. I had one of those and then 'dessert' consisted of a bowl of Fruity Pebbles and almond milk. There will be no further comments.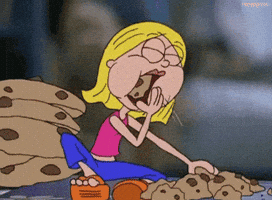 Not to mention the Toblerone bar I have in my desk at work ...
Books - I'm a big fan of the
Andrew Luck Book Club
and always make sure I read both of his selections as soon as he releases the titles. I think we're in the third season now and it's only started this year.
First season selections: Rookies read Maniac McGee; Veterans read
The Boys in the Boat
Second season selections: Rookies read
Hatchet
; Veterans read
The Art of Racing in the Rain
Third season selections: Rookies read
The Lion, The Witch, and The Wardrobe
; Veterans read
The Martian
And I just realized I never went back to read Maniac McGee so I'll get on that one. But I've read the rest and really enjoyed each one. I don't participate in the Q/A sessions with Mr. Luck though - I guess I just use his book club to give me ideas on what to read next.
So many books from way back when played a part in shaping my identity.
I am actually joining a real live book club in September. We'll be reading The Strange and Beautiful Sorrows of Ava Lavender by Leslye Walton. I'll be a guest since they meet in Indianapolis and I'm just going to happen to be up there for a conference and then for the
Indy Women's Half.
The club is made up of several girls I went to high school with so it'll be fun. Just need to make sure that #1 - I read the book and #2 - I don't stay out too late so as to get a good night's sleep before the race.
** Side note: I love having a library card. I found out about the book club meeting and the book selection while standing in line at Old Navy. By the time I got up to the register, I had located the e-book on my library's website, downloaded it to my Kindle app, and am ready to start reading it now. Boom - what??
Races - ... and speaking of races, I have a 16 mile training run coming up in a couple weeks. I knew I was going to be in Indianapolis earlier that week for a payroll conference (yawn ...) so I figured I could combine the business portion with a visit with my mama and also use the race as a training run to see if this interval stuff will hold up with me for that long. I'm looking forward to it but I'm also kind of nervous since this will be the first race I'm going to by myself. My sister might bring my mom to cheer me on but she's going to be in a wheelchair so it depends on the weather and if they can find a spot close to the running route. Whatever I need to run after the race to make up the 16 miles, I can do it in my old neighborhood before I shower and return to southern Indiana.
Kids are in school now - can't believe I have one in high school and one in middle school. One is nearly a head taller than I am - the other is just about at my height. So glad they both are benefiting from Matt's freakishly tall stature (6'2").
Now that it's September, we're all anxiously awaiting the end of the month and our annual vacation to the beach. I'm not even a lay-on-the-beach-and-bake kind of person. I mean, I glow in the dark with my paleness. Just to get away - yes, even from the dogs, the cats, the chickens, the house, the housework, the daily grind ... oh, I can't wait.
Pretty much all of us when we feel that sand on our feet ...

Any tips on running in the heat or making the treadmill more bearable?