Training Tuesday and general recap of life
Marathon Training -- still holding steady with the run 3/walk 2 intervals. I still think it's rather boring BUT it's getting easier. I'm nearly caught up with Downton Abbey, so that counts for something too. It's been too humid to get out and run like I've been meaning to -- we even planned to finally get a run outside this past weekend ... but it called for 7 miles and I didn't want to re-initiate myself to summer-running with a long run. Haven't found anything much to do with cross-training though ... other than walking ... and that doesn't seem like it should count since I already do that M-F at lunchtime. Yay for finally getting up early to run this morning though! Not sure Matt's a big fan of intervals but he stuck with me ... and what's up with no one watering their lawns in the early morning hours any more??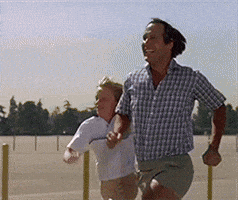 How I felt this morning after finally getting to run outside in more than a month.
Didn't even care about the humidity (too much) ...
Nutrition -- still eating crap but trying to do better about sweets. A cousin started the Whole30 yesterday ... and I'm wondering if this is something I could try/survive. Doubtful but I guess some research is in order.
Mindless eating is my downfall.
Books -- after reading 3 1/2 books in 5 days while on vacation last month, I've hit a speed bump and haven't read much of anything. I still have several books going but not really reading much in the evenings right now. Finishing up a book I borrowed from Will today or tomorrow and then hopefully start on something that will hold my attention. Need some suggestions ... or I could just start knocking out some of the books in my to-read list on Goodreads ...
Yep - me, when I hit that reading speed bump and nothing sounds good.
Immediate Family -- Allie was gone for another week of camp but this was for Mission FUGE and was set near Appalachia. The youth group came home changed -- always inspiring to see the fire in their eyes after camp. Brings back memories of going to church camp myself -- but I never did a mission trip like that, so I'm also envious. School starts in 2 weeks ... say what?? Took Allie to get some school supplies last night ... the girl is addicted to new school supplies. And yes, this is a pot/kettle = same color kind of thing. She takes after me a little bit, I suppose. It was nice to see Will surface out of the basement when Pokemon Go came out. He loaded the app to my phone as well so I could attempt it. I've never understood Pokemon and this app, while neat, confuses the heck out of me. BUT, I do think it'd be great to see other app developers jump on this type of bandwagon and create apps that get people out of the house.
Yeah, well I was GOING to have some coffee at work ... happened to open up the Pokemon Go app and immediately found a Wild Krabby sitting on the pot. I guess I didn't need a cup after all ...
Extended Family -- took a quick trip up to Indianapolis to see my mom and sister over the holiday weekend. It was nice to get away. Also got to visit with my friend during her lunch break - so that was nice too. My in-laws celebrated their 50th wedding anniversary this past weekend. What looked so much like a train-wreck in the making actually turned out rather nice -- Matt's sister and aunt ran the show and pretty much only told us what was needed when it was needing to be done. I'm all for spontaneity but when people expect me to know what's going on (including the party planners), I'd like to know what's going on. Tempers were short all week so I'm not sure how next year's whole-family-vacation will be. 13 people in a 3 bedroom condo on a crowded beach ... you tell me.
Yes, my thoughts exactly.
And that's what's going on with me.